After her work on Jem, Britta Phillips did some acting, and then joined the band Belltower, as the singer and guitar player. When the Belltower had split up, Britta then joined the band UltraBabyFat. On the album, Silver Tones Smile, Britta's voice can be heard on the songs "Bent On" and "Salem" as the bass player and background vocals. Britta is now singing in a group called Luna. Here is a picture of Britta in UltraBabyFat, and one of Britta in her guestrole in the TV-series Crime Story with William Campbell.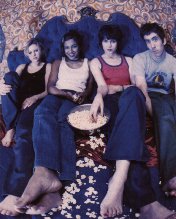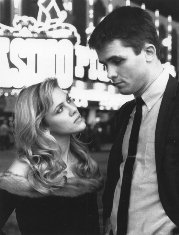 CDs and EPs

The Belltower:
Grounded
In Hollow
One Dimensional
Slipstream
Too Late
Outshine The Sun
Flight
Eyes On The Time
Crawl
Everytime
Outshine The Sun
Beatnixon Blues
Solstice
Never Going Home
Lost In Hollow
Plastic Man
Mercurial
Elements
Flight
Digital Kettle
My Church
UltraBabyFat:
Twist
Bent On
TCBA
Plenty
Salem
100 Watts
Water
What He Said
Jonesin
Peacock Throne
St. Augustine
Stupid
Ringside
An interview with Britta Phillips:

Your name "Britta" and your sisters name "Inga" doesn't sound like American names but are very common in Sweden, does your family have any connection to Sweden or any other nordic country?

"We are not actually Swedish. My mother just likes swedish names;"

What is the name of your father, who worked on Jem aswell, and what is he doing nowadays?

"Peter Phillips. He still plays piano & other keyboards for a living. He's done other commercial jingle work, Broadway shows, and toured with Phillip Glass among many other things. He keeps pretty busy these days playing different jobs."

When is your birthday?

"June 11."

How did it go with the possibility of you joining the band Hole?

"I never Got to audition. Erich came to see me play when I toured with Ben Lee last fall, but I never heard back from them."

Popdropper, In Hollow, Flight, Exploration Day, do you remember if any more Belltower CD's were released while you were in Belltower, or if you recorded any songs that weren't released?

"Those are all the Belltower CDs. We recorded alot more songs - better, I think - that were never released. I would like to put them up on my website someday if I can ever get ahold of the recordings on DAT from my ex bandmate Jody. Maybe I'll just put a couple of inferior quality - from cassette - songs up there for now."

In which season of Nightingales did you join in? How many episodes were you in?

"I was only in the initial pilot. My character got axed for the series."

Do you have any contact or plans to work again with Ford Kinder, Anne Bryant, Ellen Bernfeld, Florence Warner or any of the other people from Jem?

"I saw Anne Bryant recently. She is officially out the business and is teaching at a university. I don't know what the others are doing, but Flo Warner used to be in a folkband with my ex-husband's (and bandmate) father in the 60s. They were called Warner, Porter, and Warner. The other Warner was her brother. Silly name, huh?"

Could you tell me anything about Ford Kinder?

"He is also out of the business and is now a physician. Seriously."