RockJem.com / Index / Comic review
Comic review
April 20, 2015
Time for another review of the upcoming issue #2 of the Jem comic, which is released on april 29.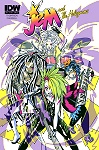 This comic by IDW Publishing, is a co-creative process between Kelly Thompson the writer, and the comic book artist Sophie Campbell who gets a story credit aswell. Colors by M. Victoria Robado, letters by Robbie Robbins, and edits by John Barber.
First of all in this issue, the last issue is quickly re-captured on one page. But this issue is where it really kicks off. Just like the first issue, this one jumps right into the action, by letting us get to know the characters even further and introducing other recognizable characters.
As you probably know by the already revealed cover, the Misfits make their entrance, with Jetta in the band already from the start. Like in the 80's cartoon, the Misfits are still the more known stars in the beginning. But their style and image is wilder than ever!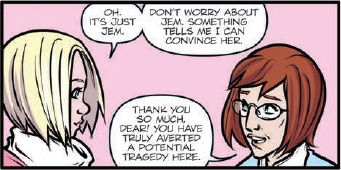 As we get into this story, both bands have made their own music videos, of which we get to see some visuals and lyrics for, which is a very cool part for this issue, with beautiful art!
The vocabulary of the lyrics changes from the 80's cartoon, for both bands. But the sentences still rhyme, and no false rhymes that just sound alike. Which is a nice detail, perfectly in line with what Barry Harman did for the over 150 song lyrics he wrote for the 80's cartoon.
Other than the Misfits, other characters introduced are Rio, some of the Starlight girls like Ashley and Ba Nee (maybe the others will be included later?), Mrs. Bailey (now Ms. Bailey), and Lindsey Pierce whose appearance has a nice timing with the Integrity Toys doll announced to be released this year.
Rio is recognizable in haircolor and kinda color of clothing, but has a different/younger clothing style. Curious Jem fans have already seen his looks on IDW Publishing's website where he did an interview with Jem, and he looks even better in this comic when you see him up close from all angles. But I'm curious of what his connection to the Misfits is. He's got a new personality, and a new role, as you know he is now a reporter at The Score. Remains to be seen what kind of a reporter he is! And whether he will be snooping around trying to find out who Jem is, like he did in the episode "Broadway Magic" of the 80's cartoon. There's already some curiousity about Jem/Jerrica in this issue. And since this comic series takes place in modern time, there are a lot more channels of communication.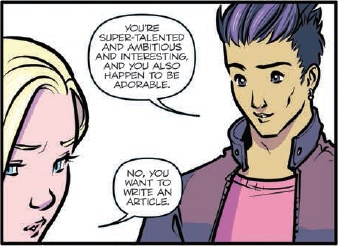 You can really tell these characters don't live in the 80's anymore, even more so than in last issue. There's laptops, smartphones, blogs, twitter, youtube and what not.
They also sport some more fashions and hairstyles in this issue. Infact they change fashions just as often as in the cartoon, and it feels like there's a common thread with a certain style for each of them.
We also get to see more of the inside of their home, and some of the rooms. If you look closely on one of the walls in a scene, you will see some other noticable characters mentioned (which are not yet planned to appear though). We also get to see some of Misfit's place. We get to learn how the Starlight girls live and a little about how the foundation works.
So much happens in this issue, it actually feels longer, although it's 20 pages of story aswell, just as the first issue. This is truly an issue full of characters, happenings, beautiful graphics full of color. And Sophie's sense for speaking through facial expressions adds an extra level to the already creative writing of Kelly.
And like last issue, at the end there's the character profiles, for the Misfits this time. And a letter, this time from John Barber himself, revealing his relation to Jem and how this comic came to be.
For this issue there are atleast 8 different covers. Apparently all are already revealed! So if you had a hard time finding all variants for the first issue, maybe you can breathe a little easier now. I think.