Jem is in good company being an 80's cartoon, and even after the 80's the themes of Jem have proven successful in more or less similar shapes. The following cartoons are either from the same time period, created by the same companies, or have the same themes like music/haircolors/fashion.

Some of these were Jem's direct competition in the 80's, other's will just give you an idea of the context Jem was among at the time, or how Jem might have inspired later cartoons. Perhaps you'll even find another series of your taste on this page.

Made by Sunbow/Marvel:

Several of these cartoons shared many voice actors. Three of the following series, even share a character with Jem called Hector Ramirez, a reporter who was written into Inhumanoids, G.I. Joe, Transformers by writer Buzz Dixon making a connection of the universes.

G.I. Joe: A Real American Hero, 1983-86 by Sunbow/Marvel, and 1989-92 by DiC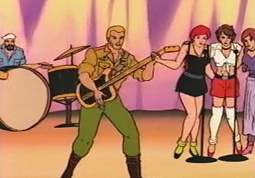 A show also based on a Hasbro toy, which in it's original form debuted in 1964 as 12-inch action figures and actually coined the expression action figures. The 80's animated series, which consisted of as much as 95 episodes in it's original run by Sunbow, was about a government issued military team known as the G.I. Joe Team who battle against the evil Cobra Command, using martial arts and different kinds of vehicles and weapons.
The line has also appeared in other shapes and been known also as Action Force, Action Man, and I can't really tell all the differences that separates all the lines. G.I. Joe made a comeback as a cartoon series in 1989, and 44 episodes animated by DiC.
I believe a G.I. Joe character called Shipwreck actually makes an appearance in the Jem episode Starbright Part 2 in a music video where Jem is running through different movie studios where movies are being filmed.
Transformers, 1984-87
Is about robots that take the shape of all kinds of different vehicles, weapons and animals and other things, and the ongoing battle between the good autobots and the evil decepticons on the planet Cybertron, or Seibertron as it's called in Japan. After a search mission for new sources of energy in the universe, the Autobots end up on earth.
In the original series there was 98 episodes, and it has since been followed by several series and even some quite amazing live-action movies.
You can actually see a Transformer robot in the Jem episode "Out Of The Past" where Jerrica's father Emmett Benton invents the computer Synergy, where one of the first holograms it projects is in the shape of a robot. Also in a Transformers episode, you can see Jerrica and Kimber, sitting in a classroom but colored differently, and in another episode you can see a poster of Jem on a wall.
My Little Pony, 1984-1987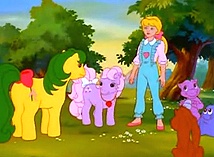 The original series of this cartoon consisted of 2 standalone episodes, a movie and then another 63 episodes, and the ponies have since appeared in several more series. The story is about colorful ponies that live in a magical land alongside all kinds of creatures, good and bad ones. There are regular ponies, seaponies, unicorns, pegasuses and flutter ponies. Each of the ponies have their own unique symbol on the side of their flanks.
There are, unusually enough, no actual main characters here, since the stories seem to revolve more or less equally around all the different ponies. The human siblings Megan, Danny and Molly and the dragon Spike are often featured in the stories though.
This is a colorful show, more in the lines of Jem, even with some songs. In one episode of Jem, "The Stingers Hit Town Part Two", there appears to be a My Little Pony reference, when Ashley trips over a soft animal toy in the shape of a purple unicorn with blue hair. Also see the Similar dolls page about the toy line.
Robotix, 1985
This cartoon debuted as a Super Sunday cartoon, but never made it into it's own series. It consists of only 15 episodes each 6 minute long, and is a robots show kinda similar to Transformers if I may say so. The Protectons are the good robots battling the evil Terrakors on the planet Skalorr, where a group of humans land with their spaceship by mistake.
Bigfoot and the Muscle Machines, 1985
Another one of the four shows that started out as a Super Sunday mini-series along with Jem. This show was about some people who run a monster truck show, and featured vehicles competing in the United States Hot Rod Association. Not as much about vehicles as you might think, it actually has a story and female characters driving one of the vehicles.
Perhaps my favorite among the four Super Sunday shows, other than Jem of course. Reminds me of a car chase scene from the Jem episode Starbright Part 3, and after all, the Jem series did have a bunch of car chasing scenes.
The Inhumanoids, 1986
A 13 episodes long animated series about a group of scientists, Earth Corps, who, by the help of their exosuits and the elemental beings, the Mutores, battle against three subterranean monsters called the Inhumanoids.
This action-packed series has little in common with Jem, but shares the same origin in being a Hasbro toy and debuting as a Super Sunday mini-cartoon. It was the second most popular among Jem, Robotix, and Bigfoot and the Muscle Machines, and actually made a quick appearance in a Jem episode "Broadway Magic" which featured one of the inhumanoid monsters on a TV-screen.
Visionaries: Knights of the Magical Light, 1987 by Sunbow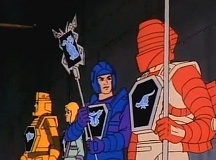 This cartoon series was, like most of the above, based on a toyline by Hasbro. The only Hasbro-based cartoon Sunbow Productions created without the help of Marvel. Due to poor performance, perhaps also by other Sunbow shows, it was dropped after 13 episodes.
It's about two groups of Knights, the Spectral Knights and the Darkling Lords, who, after all energy on their planet Prysmos is lost, are introduced to magic by the wizard Merklynn. After surviving his tests, each knight is given their own animal totem which appears on the front of their armor, and which they can turn into.
The cartoon and toy line makes use of holograms which reminds me of Jem, but apparently this was one of the reasons the toyline became too expensive to continue.
Cartoon bands:
There aren't too many animated bands out there that I can think of. In most cases the music is just a small part of a cartoon that is mainly about something else. There are the real life bands that have some kind of animated series or just an animated music video. And then there are the cartoon shows that don't include bands at all but still some singing. But here are the cartoon bands I can think of.
The Archies, 1968 by Filmation
This animated series was based on the comic created in 1941, and only had 17 episodes, each containing two stories. The show is not all about a band, but rather about some highschool students who sometimes play in a band. The band consists of the guitar player Archie, his foodloving friend Jughead on drums, one of his love interests the cheerful and clever Betty on tambourine, is other love interest the rich and spoiled Veronica on piano, his sly rival Reggie on guitar.
Each episode introduced a new dance and song presented with a music video mainly consisting of the group standing around playing their music and singing. This cartoon band actually managed to get a real life hit with the song "Sugar, Sugar". Although it was a short-lived series it's comics were largely popular around the world, and two new animated series, without music, were later created, in 1987 and in 1999.
Josie and the Pussycats, 1970-72 Hanna-Barbera Productions
Started out as an Archie comic book, then became a musical animated TV-series consisting of 32 episodes. The original series had 16 episodes, and the spin-off in outer space another 16.
The group, known to wear their leopard print leotards, consists of three girls, the redhead singer and guitarist Josie, the blonde drummer and occasional singer Melody, and the black-haired tambourine player and backup singer Valerie. They had a manager called Alexander Cabot III, and Josie's boyfriend Alan who was their roadie. Josie and the Pussycats would often perform in an exotic location. Their manager's sister, Alexandra, was the bad girl and would cause trouble, and Josie and the Pusscats would end up solving mysteries.
The music consisted of a song per episode, and would be played during a chase scene. Compared to Jem, this cartoon is a little less about music and fashion, and a little more about humour.
Barbie and The Rockers, 1987 by DiC/Saban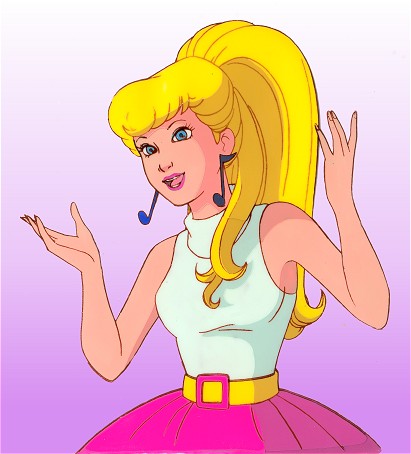 This very well animated mini-series consisted of only two episodes, "Out of this World" and "Rockin' Back to Earth". Although Barbie is known to have been everything as a doll, the cartoon revolved around Barbie and her friends only as the rock band Barbie and the Rockers (or Rockstars as in Europe). Except for Barbie who did the singing, the band consisted of redhead Diva with maracas, blackhaired Dana on synthesizer, the blackhaired Dee Dee on drums, brownhaired Derek on guitar, and blonde Ken on guitar.
In the cartoon, Barbie and the Rockers were the only band around, they made a record breaking world tour, Barbie was named the first ambassador for world peace in Washington, the Rockers perform the first concert ever in outer space, they even go back in time. Alot of the story is about doing fun stuff, taking pictures, visiting places, changing clothes, and putting on makeup, but the cartoon also featured music during all of this. Much of which is older songs by real life singers, like The Lovin' Spoonful, The Beatles, Cat Stevens, and Bobby Freeman.
This cartoon wasn't bad, but it was made to compete with Jem. And the fact that Barbie and her friends didn't have any setbacks other than accidentally travelling back in time, wasn't really a problem, it's nice with a perfectly happy story. And although I don't know the name of the singer who sang the songs of Barbie, the songs sounded great and quite updated compared to the original songs. Also see the Similar dolls page.
New Kids On The Block, 1990-1991 by DiC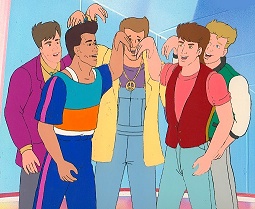 A real life band consisting of five male members: Jordan, Jonathan, Joe, Danny, Donnie, and was formed in 1984. They became world famous in the 80's and early 90's, with hits like "You Got It (The Right Stuff)" which was the opening theme of the cartoon, and "Step by Step" which was the closing theme in instrumental shape, and these guys still perform around the world today!
The around 18 episodes long cartoon had a cool intro, and featured their real music, even if not as actual music videos, but more blended with the action. It also featured real life clips, but as for the cartoon part they didn't do the voices themselves. There were even comics about these guys.
Also see the Similar dolls page.
The Hex Girls, 1999-2011 Hanna-Barbera/Warner Bros. Animation
A cartoon girlband, introduced in Scooby Doo in the 90's series episode Scooby-Doo! and the Witch's Ghost, as secondary characters. The band consists of three girls with a goth-style: Thorn is the leadsinger and guitar player, Luna is the keyboard player and back-up singer, and Dusk the drummer and back-up singer. They're a local band that becomes friends of the Scooby gang, and get to re-appear in three more episodes. Daphne even joins in once singing with them.
Although their music style is very different from anything heard in Jem, their look kinda reminds me of the Misfits, rather than Jem and the Holograms. Or even Jem and the Holograms in the Jem episode "Trick or Techrat".
Offsite link: Youtube video
Female protagonists:

She-Ra, 1985 by Filmation
She-Ra the heroine of the planet Etheria, is the alter ego of Princess Adora, who is He-Man's lost twin sister. She-Ra is the leader of the Great Rebellion who are fighting against the evil Hordak to protect the planet. There was a 93 episodes long cartoon created by Filmation. And although this brand was created by the company behind Barbie, Mattel, it's cartoon was made by Filmation and was quite great!
Other than the theme song and ending theme, this is not a very musical series. The character Bow actually plays his instrument every now and then, and atleast once he even sings. Also see the Similar dolls page.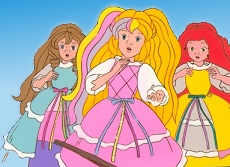 Lady Lovely Locks, 1987 by DiC
Lady Lovely Locks is a princess, who togheter with her friends Maiden FairHair, Maiden CurlyCrown and the flying animals called Pixietails, defends the kingdom of Lovelylocks against Duchess Ravenwaves. There was a 20 episodes long cartoon series by Dic. Also see the Similar dolls page.
Maxie's World, 1988 by DiC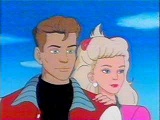 Based on Hasbro's doll line in the 80's which took over right after Jem. It was a 32 episodes long cartoon called Maxie's World, about a blonde girl at Surfside High School in California with her own tv show. Like Jem, it also included some songs. Also see the Similar dolls page.
Sailor Moon, 1992-97 by Toei Animation
This 200 episodes long anime show based on dolls that first appeared in 1992 in Japan, is about magical female superheroes, who are actually reborn defenders of an old kingdom of the solar system, fighting evil forces.
The main character, Usagi Tsukino, has a secret identity, and transforms into Sailor Moon, soldier of love and justice. The other magical superheroes are Sailor Mercury, Sailor Mars, Sailor Jupiter, Sailor Venus, Sailor Neptune, Sailor Saturn, Sailor Uranus, and Sailor Pluto. Sailor Moon's love interest is the mysterious Tuxedo Mask. Also see the Similar dolls page.
Monster High, 2010-13 by Mattel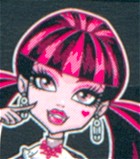 Fashionable monster creatures who are said to be relatives of the famous old monsters like Dracula, Medusa, Frankenstein's monster, Zombies, Werewolves and so on. There are online animated episodes based on the Mattel line.
Also see the Similar dolls page.
Honorable mentions:
There are a bunch of 80's cartoons from the time of Jem that made a lasting impression. Some of them also had toys that competed for sales with the Jem dolls in the toy stores. And several of the cartoons had some of the same people who worked on Jem, atleast voice actors. Some of them I plan to write a little review about also.
BraveStarr, Thundercats, Ghostbusters, The Real Ghostbusters, He-man and the Masters of the Universe, Robotech, M.A.S.K., Spider-Man and his Amazing Friends, Defenders of the Earth, Dungeons & Dragons, Alvin and the Chipmunks, Moon Dreamers, Denver the last Dinosaur, Adventures of Teddy Ruxpin, AlfTales, Glo Friends, Inspector Gadget, and Rainbow Brite.