An interview with Samantha Newark:
By Tom Tsafaridis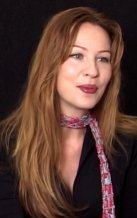 I've heard somewhere that you are British. Is this true? I was wondering if you could tell me a little bit about yourself about your background. Where you were born and raised etc.
Yes, I am British (born and raised). My whole family is from there. I was born in Wimbledon, England during tennis week. I lived in Bollingbrook first and then my family moved to Essex, England. I lived there until I was 7 years old and then the whole family moved to Africa "Rhodesia" now Zimbabwie. That is where I started singing professionally. I made a record and toured all over Africa in a tour bus and did radio and T.V. and did a command performance for the Priminister at that time. Great memories and such an invaluable learning experience.
As many Jem fans now know, you were the voice over artist for Jem/Jerrica. A popular animated television series in the mid-80's. Please tell me how you got started in voice over and how you became involved with the Jem and the Holograms series in particular?
I was signed to an agency in Los Angeles for commercials, T.V. and film. The agent that represented me at this agency left there and started her very own agency and I went with her. She opened a voice-over department as well as an on-camera commercial department. The very first voice-over audition I read for was "JEM". As fate would have it, I got the lead and got my start in the voice-over world.
You must have been very young when you were voicing Jem. Do you remember what it felt like to be given the opportunity to provide the voice for this popular character?
I was very young, infact the youngest member of the cast. It was thrilling to work with such a great director, Wally Burr. Also the other cast members were serious voice-over talent, so it was an incredible, invaluable learning experience. I had always sang and performed professionally so as you can imagine I got such a kick out of being able to just use my voice to bring "JEM/JERRICA" to life. Plus the fact that she was the lead singer in a famous Rock Band, I got to live out my Rock Star Dream with each episode. Even though all the music was done in New York and all the singers cast over there, The fact that my singing voice wasn't used as well was fine with me, I was just feeling blessed to be a part of the show and was happy for Britta Phillips who did the singing for "JEM".
Was there any other character that you auditioned for besides Jem/Jerrica?
Not that I remember, possibly I read for one of the other band members but I just remember reading for "JEM/JERRICA".
Do you remember if there were other people (well known Hollywood names) who also auditioned for the role?
I'm sure that there was quite a bit of talent up for the series, I don't know what big names were, but I do remember auditioning and then leaving town a few days later to visit friends in Colorado. My dad was trying desperately to reach me in the mountains for a couple of days to tell me that I had got the part.
What is your most vivid or humorous memory that you have about your Jem years?
I didn't realise what an impact the show was going to have. The whole movement even now on the internet to bring Jem back to television is really amazing. Alot of young girls have written and said that "Jem" was a role model for them growing up and that It was an oasis amongst all the boy cartoons that were popular at the same time. That has made the whole experience even more rewarding and wonderful. As far as humorous things, I do remember alot of dirty jokes at rehearsals, always alot of laughter and silliness. The other cast members were alot older and very crude at times but always so so funny and supportive. We also would get a story board at each rehearsal which for people that don't know, is pictures of the animated characters showing the action along with the written scripts, so we can see what is going on visually. A few times we would receive naked story boards from the animators where all the characters they drew were naked. It was hysterical.
Samantha, you have a beautiful, unique and distinctive voice. It's clear to see why you where chosen to voice Jem! Has anyone you met during your time on the show and after, recognized your voice as Jem? Any interesting or amusing stories you have to share?
I have to say honestly that no one has actually recognised my speaking voice as the voice of "JEM". When people have been let in on it the response has always been very positive.
When did you become aware of all the interest that still exists for Jem on the internet, and what motivated you to conduct your search?
I became aware a couple of years ago as I slowly started to align myself with the computer age. I did a search on my name just to see what would come up and to my surprise, were many many "Jem" sites.
From the point of view of a fan, thinking about the demands of your job, please tell me what a typical day working on the show was like for you?
I would usually hear from my agent with a call time for rehearsal and session. Rehearsal and session would be back to back. I would arrive at Wally Burr Studio's in Burbank, California at about 1:00pm and the cast would sit around a large table and read through our scripts. We would basically run through the dialogue, make notes, highlight our parts, look at our story boards and get direction. Then we would break for a little while and then head into the recording studio to work. The sessions would last a few hours depending on how much you were in the script that week. I was fortunate to be in it quite a bit as the two characters.
How did the voice cast click as a group? Was there a particular voice actor you enjoyed working with? Have you kept in touch with any of the other voice actors?
We all got along really well, It was light and silly and yet everyone was a such a pro and knew when it was time to get to work. I got razed alot because my character was such a "good girl" and it was food for being singled out a bit, but it was all in fun and truly a joy to work with such great people. Charlie Adler and Jack Angel are both with my agency , so I often see them but they are really the only two after the show ended. I haven't really seen the rest of the cast in a long time.
I liked Jem because it was a series that was truly ahead of its time. It's a well written, beautifully animated show, with adult themes and complex characters, combined with adventure and great music. What did you like the most about the show?
I got such a kick out of the fact that "Jem" was a rock star, a singer!!. As you know, my passion is music and I loved that aspect of the work. I also knew that the writers were geared to leave the audience with a positive message. There was always an element of guidance to "do the right thing" and I didn't mind that "Jem" was such a good girl. The cast used to call her a "Pollyanna" but to me the Pollyanna type character was profoundly powerful. If you think about it, She could walk into very dark situations and totally transform them. I think It would actually be a grand thing to keep exploring that when it comes to television and young people.
I know it's been a long time, but do you have a favorite episode?
Oh gosh, it has been such a while. I still have a bunch of my scripts and want to take some time to read through them again. So maybe I'll have an answer at some point.
Until recently, I and I'm sure other fans of the show, weren't aware that there where two women behind Jem's voice: your speaking voice and Britta Phillips singing voice sound very similar. How did you like Jem's singing voice, and do you think your voices sound alike? Did you ever meet Britta Phillips?
I think Britta is a fabulous singer and has a very unique sound. My voice is a bit deeper than hers, she sings in a higher range than me. I never did get to meet Britta. I have always kept an eye out to see if she is ever performing in L.A. but so far I haven't caught up with her.
In two episodes you got to do a little singing of the song "I Believe in Happy Endings", which was usually done by Britta Phillips. Would you have liked to sing for the show? Do you think if the songs were recorded in L.A. you would have been chosen to sing?
I sort of remember the episode where I sang but not clearly. I couldn't say if I would have been cast as "Jem's" singing voice as well. I think Britta was perfect, so who knows. I see it as, there were two female artists getting paid to do what they love instead of one and I'm happy with that.
I don't know if you ever heard any of the songs, but do you have a favorite Jem song?
For some reason I am remembering, "Twilight In Paris" . But I love the "Jem" theme song, It is so great, that has to be my favorite.
Did you take any souvenirs from the show, as sort of a reminder of the character you voiced?
Yes I did take some souvenirs. I kept a good amount of my scripts and some story boards. I bought a glitter and gold "Jem" doll. And I also have a satin black and pink custom "Jem" jacket with my name embossed on it. The cast members had the opportunity to get them and I treasure it.
How did you feel when the show ended, and do you remember what it was like to record the final episode?
We had such a great run with the show and because it was in re-runs for such a long time It felt like it hadn't ended. I have to say I don't remember working on the final episode.
Samantha, in your first question you said that you are British, I'm just wondering when you voiced Jem you didn't have an accent. Do you have a British accent?
No, I speak with an American accent now. My sister and I used to be teased and harassed horribly when we first came to an American school. We both dropped our accents very quickly. I was encouraged by my father who was also my manager back then, to practice my British accent and keep it up incase I needed it. Well it has actually come in handy with my voice-over work. I was hired by Steven Spielburg to do the voice of Peter pans mother in the film "Hook". Don't look for me in the credits because it is a common thing to not mention the voice-over artist if you were hired to be the voice of an actor. But it is a beautiful scene when Peter Pan is an infant with his British mother. I also have done a few commercials using my accent.
What is your analysis of the character "Jem/Jerrica?" and with whom did you identify with the most, Jem or Jerrica?
I have never really analysed the characters I played. I have to say that I very much related to them both. I was performing/singing up a storm and doing concerts at big venues from the time I was a little kid, so I related to "Jem" very much. I also felt the same way about Jerrica, maybe not being a savvy business woman, owning a record company but definitely how she interacted with those in her world, her capacity for understanding and compassion, her kindness. I do feel like I have worked hard in my own life to nurture those qualities in myself. There was definitely alot of me in both girls and I suppose that helped me land the role.
Did you ever realize you were portraying a role model for young children everywhere?
I don't think I could have grasped the scope of the effect it seems to have had on the fans of the show. I do remember feeling very content about "Jem" being a good person I had no desire to be a bad girl character. I liked Jem and Jerrica alot.
What's the nicest thing a Jem fan has ever done for you?
Well, being invited to do this interview has been really great. An opportunity to connect with fans of the show and also being able to let them in on what I have been up to since then with my music. So this is pretty fab.
Did you ever receive any feedback or fan mail from fans about your character or the show at the time?
Yes, my agent would often pass on letters and requests for photos from fans of the show.
I know you are a singer/songwriter; what type of songs do you like to listen to and what type of music do you write?
I listen to soooo many different types of music and I am a fan of so many artists!!! Maxwell, Millisa Etherage, Tori Amos, I love old funk like Parliament and James Brown, old disco like The Bee Gee's and KC and The Sunshine Band I love Maria Mckee, Snoop Dog and Backstreet Boys, Jeff Buckley, The Dixie Chicks, Sheryl Crow, Fleetwood Mac, Elton John, Aerosmith, Led Zepplin, Nine Inch Nails the list goes on and on.
Do you have a CD of your music?
I have a two song demo up on my mp3 site and am hoping to record lots more material in the coming months.
Where do you see yourself headed; are you looking for recognition as a serious singer/songwriter and where do you go from here as an artist?
I will be putting a new band together in the new year and plan to be playing out alot and be recording more of my material. My intention is to make music my living. My mantra has always been to, "DO What You Love" and I believe whole heartedly that God is Good and wants us to be fulfilled in our work and do something that absolutely makes us want to leap out of bed in the morning and contribute our special gifts. Life is too short to live in mediocrity I have given myself permission to follow my dreams.
You are also a great actress. I've seen a movie that you did in the 80's called Summer Camp Nightmare. Are you interested in pursuing acting anytime in the near future or is music your first love?
Wow, I can't believe you have seen that film. I thank you for the compliment I had no idea what I was doing as far as being a film actress. I had no training so it was terrifying but a great, great experience. As far as on camera acting, I would be open to whatever showed up in the future. I want to explore my creative potential and have moments in my life of, "wow, I never knew I could do that". My music is definitely my first Love and priority (I can't wait to make a music video). My best friend is Cindy Dolence who is an actress. She was on the last season of La Femme Nikita and played Kate Quinn. I am quite content for the moment to leave the on camera acting up to her she is quite fabulous.
Samantha, your trademark saying is "Do what you love", and you clearly are. Is there anything you would like to say to your fans and legions of Jem fans out there?
Firstly, thank you for the opportunity to share with you all, I am touched and grateful for this dialogue. I think it takes alot of courage and faith to pursue your dreams. I find great comfort in listening to people that have what I want and not listening to those people that don't. Example : If I want to be encouraged and inspired, I look to those who have walked the same path and try to model what they have done and find out what their spiritual conversation was like, how they were treating their bodies, just where they were in their consciousness. There is so much to learn from other people's journeys. Show-business is a very strange animal because we are usually very sensitive creatures as artists and the art requires that we be and yet the business itself with no particular formula for getting from a to b can be brutal. It is for me a faith walk in the biggest sense, but I wouldn't trade it for anything, I love my life!!
The last question to the interview is would you do it again, voice Jem?
The answer would be a big YES!! I would love to voice "Jem" and "Jerrica" again.