RockJem.com / Index / Ari Gold
Ari Gold
Born and raised in an Orthodox Jewish family in Bronx. Since he was five he has been in the entertainment business, sung in over 400 jingles, provided various voices for TV shows like Cabbage Patch Kids and Jem. He has even performed back-up vocals for Diana Ross.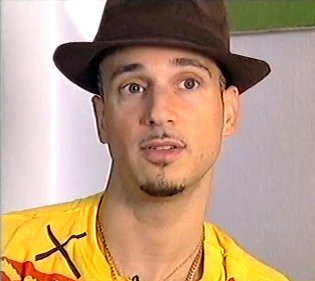 As an adult, he continued in the business as a pop singer and song writer, releasing his first album in 2001. This talented and award-winning man has made his own mark in the music business with his sense for fashion and artistical music videos, with an unusual and honest feeling to them. Perhaps affected by his choice of being openly gay from the start, which has never stopped him, but rather he is unique in the way he has embraced his sexuality as a natural part of his career.
An early interview with Ari Gold about his work in the cartoon TV-series Jem and working on his first album
December 26, 1999
"I was a huge fan of Jem before I was on it and Ford kinder and Ann Bryant who wrote the music for the show had a part for a child, Banee (I was about 12 at the time) so they immediately asked me. I knew them because I did a lot of jingles for them (like My little Pony, My Buddy etc.) I was born in 74. I have all the Jem episodes on tape--it was the coolest show."
"By the way, I don't know if this is clear but I am a biological man who could sing like a girl (or an 8 year old Vietnemese girl!) before puberty struck. Just want to make sure there's no confusion."
Were you the singing voice of the other Starlight Girls too?
"I did not do any of the other starlight girls although I'm sure you've noticed that many of the speaking voices do use their voices for more than one character. I have done lots of other voices for other characters like, Sybal Sadie on the Cabbage Patch Kids record."
"A little story: Recently, my brother met Britta Phillips and recognized her name from Jem (I used to really want to meet her but we didn't record our songs at the same time.) So he brought her over where I was hanging out with my friend who was having a birthday. She told me all this great Jem gossip. My friend who was having his birthday is also the worlds biggest Jem fan so he got the birthday present of a lifetime!"
"Anyway, I'm thrilled that Jem lives on on the internet because she certainly does in my heart. I'm working on starting my own Website for my music since I just completed my first CD, but it will probably take a little while. I am currently performing in New York City my own music which is R&B/Pop at a place called Starlight (nothing to do with Starlight music!)."
What songs are on your album, and how and where is it available to buy?
"About my CD, It is not yet available for purchase. I just finished all the music and recorded all the songs and am uncertain as to whether a record label will put it out or if I want to put it out on the internet and such."
The song titles are:
Should I Get Over You
See Through Me
Wave of You
Write Me A Love Song
Things I Need To Hear
Don't Come For Me
So Many Things
Just A Little Love
Home
Give Me All Your Love
"The style is R&B, a little Babyface, some George Michael, old Madonna, the ever cheesy but still delicious Mariah Carey, and a touch of Synergy's power."
External links to Ari Gold:
Ari Gold is about to release his next album, so keep your eyes out at this page for more!