RockJem.com / Index
With a pair of microprojector earrings and the words "showtime Synergy", Jerrica Benton's holographic computer transforms her into the Truly Outrageous Jem, the pinkhaired singer of the band The Holograms.
This fansite was started 19 years ago, and is a tribute to the 1980's musical animated TV-series and doll line, and to the people and companies that made it all happen.
Here you can find in depth guides to the cartoon, reviews of the collectibles, behind the scenes material, and other fun and informative features. And be sure to check back for updates about all the exciting 2016 happenings like the comic series and the commemorative doll line.
Have fun exploring this site, and be sure to vote in the Poll and post your messages at the Forum!
News & Updates:
June 22, 2017
Time to make an update! Infact there has been alot of unannounced work continuously on this site! Did you notice all the updates recently? Well some were only announced in the Rock Jem blog. It became a little much to keep up with all the amazing official events going on in recent years for Jem. Many things deserved attention, while at the same time the original people behind Jem continued their careers with exciting news, and it's hard to keep up or choose what to concentrate on. Especially while finding time to continue updating the already existing features of covering the classic Jem cartoon and products which is also a big part of the heart of this site. It's very hard to keep all this going without hiatus for 20 years. Yes this site celebrates it's 20 years anniversary this year!
Instead of trying to do it all at once, this site will concentrate on only continuing the features that it does best and aims to update further, which are the features currently available on this site. There are enough people out there who are great at reporting Jem news, creating new fanprojects, and artistic features, so this site will happily try to celebrate their work with links and announcements every now and then, and you're of course very welcome to post about it on the message board.
The main goal with this site is now to continue the existing features which has alot of interesting updates coming up, finish some unannounced features, and every now and then post some news and links. Alot of energy will also be moved towards figuring out where the Jem brand is heading and future possibilites.
Thanks everyone who has participated on the journey for the last 20 years, and hopefully you will continue to come back for some exciting development in the upcoming 20 years and beyond!
July 29, 2016
Jem has been reported to currently air on the Jones channel on Sky in New Zealand. Thanks Meredith, I hope you all enjoy the show. And anyone else have news about where Jem is airing, let me know.
Lots of catching up to do with this site, hopefully I'll be able to do more of an update soon of what's been going on in the Jem world in the recent months. And even new Jem features. Got some things coming up.
April 5, 2016
What's so great about Jem? Here's a list of 30 advantages Jem has over other shows, especially 80's cartoons. Also keep an eye out for more articles coming up this year about all kinds of things about Jem.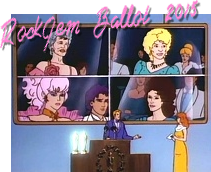 February 28, 2016
Finally the results of the 2015 Rock Jem ballot are announced! Just in time for the Academy awards! Not that the Academy awards can even compare to these truly rocking entries for our beloved Jem!
Since this was the first year of this ballot, it's extra special to announce the first ever winners voted by Jem fans! And a few categories may never appear again, since they are closely tied to what was available this year in Jem's 30th anniversary. Or maybe we'll see something else in 2016 that will fit into categories like "Best actress".
Of course, like announced before the voting, there are no losers, no last spot will be announced, only top three. If you were nominated, you were worth it.
Thanks everyone so much for all the nice comments, support and participation in this first ever Rock Jem ballot. Hopefully this ballot will be a long annual tradition. And if anyone has any ideas or entries for next year, feel free to send them in at any time. It's all being noted.
February 23, 2016
Issue #12 of the Jem comic by IDW Publishing is released tomorrow! Read the review here.
February 9, 2016
The valentine special issue of the Jem comic by IDW Publishing is released tomorrow! Read the review here.
And soon the result of the 2015 Jem ballot will be presented.
January 27, 2016
The 11th issue of the Jem comic by IDW Publishing is released today! Read the review here.